Simply Carolina Dreamz » Creative Chaos, Frugality, Unexpectations » Fun stuff going on in the world of PaperBack Swap
Are you using paperbackswap?  You should be.  I'm having so much fun with it and have saved so much money, that I would have spent in the big name bookstores.
Here's a look at my current statistics:
Let me explain what you see..
I have 7 books, that I've requested, with 7 of my book credits, from several different members.  My current list has the following books on it:
Life Balance (Linda and Richard Eyre)
Endowed from on High (John D Charles)
Looking for God in Harry Potter (John Granger)
What I wish I'd known before my mission (John Bytheway)
Romancing the Ordinary (a Sarah ban Breathnach  book out of print that I've been looking for everywhere.)
A Woman's Worth (Marianne Williamson)
These 7 remain in this queue until the member has mailed the book to me.
The second tab has 5 books that have already been mailed to me:
The Road Less Traveled
Further along the Road Less Traveled
The Road Less Traveled and Beyond
What Da Vinci didn't know – an LDS Perspective
Searching for your Soul – Writer's of many faiths share their personal stories of self discovery
The third tab are books I've shipped, from requests, of other members.  I've shipped 6 that have not been marked received, yet:
The Spiritual Lives of Great Composers
What ever happened to Justice
What ever happened to Penny Candy
The Mighty Queens of Freeville (a book I received from paperbackswap)
Cleaning up the Clutter (a book my mother once found in my messy vehicle. ha)
Genealogy 101
The last tab are two books sitting in hold.  When you add books to your account, if the book is on someone's wish list, they are allowed 48 hours to claim the book, before it goes into the general book population.
For every book credit you have, you can request any book that is registered on the site.
When you first sign up, you get two free book credits, to go find books with, after you list 10 books that you are willing to ship to another member.
I just found out that you can buy book credits in the kiosk (the sites store.)  Book credits are about $3.45.
You use media mail, if you print your postage directly from the site.  I transfer money to my paperback swap account, from my paypal account.  Sometimes I don't pay for the postage and fee, from the site, when I have extra stamps around, but I do buy the $.19 delivery confirmation.
When you buy postage right on the paperbackswap site, when you are printing your mailing label, for a book that has been requested, you automatically get instant credit, for that book, as soon as you mark that you've mailed it.
When you only buy the delivery confirmation and you apply postage after you have your package is ready to mail, you receive quick credit as soon as the post office scans the delivery confirmation bar code.
Not only am I cleaning off my bookshelves of books that I don't want, I'm also receiving books I'd ordinarily go to the store and buy at retail price.  Big win!
Paperback swap is not limited to paperback books. You can send and receive any book, in any format.  Audio books costs two book credits, though.
This is the easiest way I've ever "bought" books, without shelling out hundreds of dollars.  You should try it.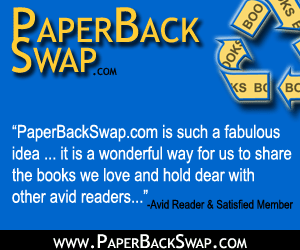 Filed under: Creative Chaos, Frugality, Unexpectations · Tags: book club, books, free books, get free books, paperbackswap, swap your books, trade your books